About Navi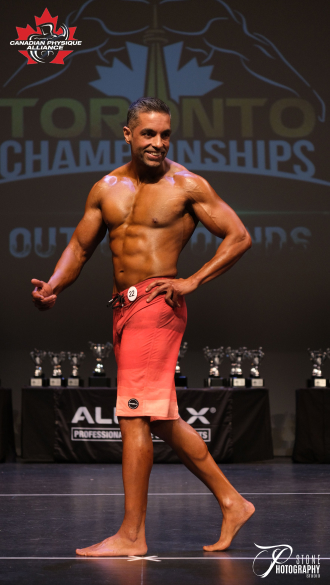 Navi grew up in a military family where passion in health/fitness, and playing sports was important for self- growth. His father was a successful field hockey player for the Indian National Army and wanted to make sure his son continued the tradition in sports by enrolling him into ice hockey at the age of 5 leading to a continued journey in the health/fitness world.
Navi pursued his passion for fitness studying kinesiology at McMaster University and was quite successful in Personal training. This encouraged him to start training clients in the GTA. Navi has trained hundreds of clients and has successfully helped them meet and exceed their health and fitness goals.
Early in his fitness journey he reached 240lbs focusing more on strength training and mass building which he successfully achieved. However, over the years fitness goals changed and he transformed his body to lean muscle at 185lbs. His vigorous bodybuilding training program to pursue the Men's Physique Masters (40+) division in March 2019 placed him 3 rd and then 3 months later finished 2 nd at Canada's elite show – "Toronto IFBB Pro Qualifier". These personal goals helped him achieve a more Spiritual, Loving, and Healthy life within himself and his 2 beautiful children.
Today he continues to help people achieve their fitness goals in all aspects of Mind, Body, and Spirit. With COVID taking over the world for the past few years, Navi is determined to be one of many voices advocating the importance of healthy living to combat this pandemic.